NEW GENERATION OF INTELLIGENT SINGLE BOARD CAMERAS OUT NOW!
The just released SBC4018 smart camera and companion software development kit helps OEM machine builders and developers to implement embedded machine vision functions on a price/performance ratio unheard before with features as:
– Network and real-time ready
– Multitasking, event handling, pipe lining
– Rugged shock and vibration resistant industrial
– Open system with SDK
– On board 3200 MIPS freely programmable DSP processor
Vision Components, a leader in machine vision technology, introduces its new line of real-time and network enabled industrial smart cameras.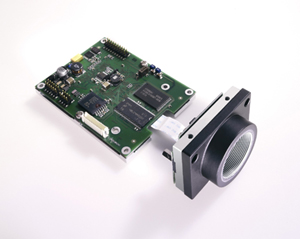 The SBC4018 single board smart camera, the first member of 40xx series, targeted for use in OEM applications for industrial, medical, mechanical engineering and robot applications. It presents a platform to build the next generation of feature-rich embedded machine vision systems.
The SBC4018 puts forward a unique balance of size, performance, power consumption and most importantly cost to OEM designers and system integrators. With 3200 MIPS on-board DSP computational power, it brings a new level of performance not available before in a smart camera.
It also features 16 Mbytes of on board SDRAM image/data memory with 2 Mbytes of flash EPROM for data and program storage, process IOs, outputs for lighting control, progressive scan CCD, instant triggering, full-frame integration, electronic shutter, small size of 60×80 mm, Fast-Ethernet, remote head option for application where space is scarce,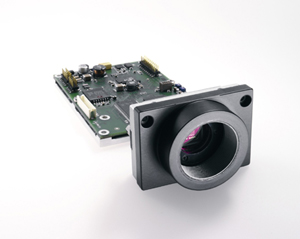 The SBC4018 is exceptionally rugged and compact while providing high performance and a wide variety of integrated features.
The single board line works with standard industrial C-mount lenses and 12V power supply.
The VCSBC4018 is equipped with a variety of communications protocols including TCP/IP, UDP, FTP, SMTP, socket support, a Telnet-server and an HTTP server. A website can be hosted on the tiny board that can be displayed using a standard web browser anywhere on the world-wide web.
Pre-emptive multi-tasking makes it possible to run several processes at the same time; so the user can change parameters on the fly without any impact on the inspection or communication process. The SBC4018 is ideal for real-time image processing functions such as run-length encoding, object labeling, binarization, blob analyses and many others.
Using the powerful VCRT and VCLIB vision tools along with CCS from Texas Instruments, developers can quickly and simply create their smart camera application on a Windows development host, and upload it into the smart camera and run the application self-contained in the camera. Working with Vision Components SDK on a one time license is a unique opportunity for OEMs in the industry to significantly reduce cost.
The wide application areas include mechanical engineering applications, gauging, object recognition, 2D code-reading, 3D measurements, security applications, motion capture and analyses, robot vision.