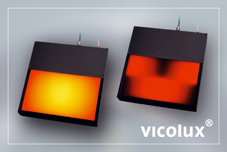 Adaptable light
Adaptive lighting – in which the users themselves have control over the
light and can custom design the precise arrangement ? is the latest
development of vicolux lighting from the house of Vision Control.
Every LED in the lighting unit can be individually set to one of 1024
brightness steps via mouse-click within a WINDOWS program or via the
vicorem remote control code. The connection to the master computer is via a
100Mbit Ethernet interface. In this way, the lighting can be encapsulated
within any equipment by use of its own IP address. The protocol for
controlling the lighting is available free of charge.
Mehr lesen