HALCON Captures Intelligent Camera Market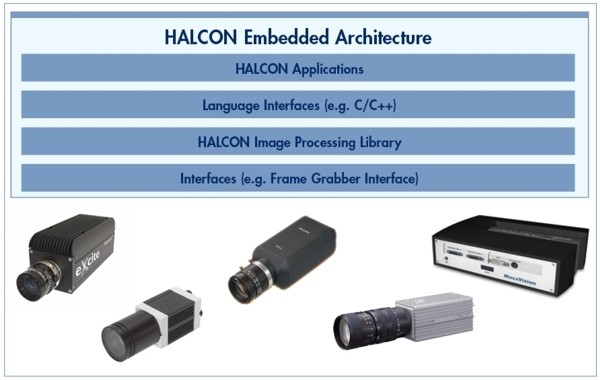 In the machine vision market, intelligent cameras and lean systems become more and more important. Up to now, cameras, frame grabbers, processor hardware, and machine vision software had to be considered separately. Hence, the trend to offer all in one is increasing because this enables the customer to economize his system in purchasing as well as in installation effort.
To generate a substantial added value for their customers, manufacturers of first-class hardware also need first-class software for an optimal usage of intelligent devices. Regarding the software, Sony, Philips, Festo, and Basler, world-famous manufacturers of intelligent cameras, and Strampe, manufacturer of the Vision Box, set on HALCON from MVTec. Thus, the software company from Munich enters another future-oriented market segment.
"From the beginning we designed HALCON with a flexible and open architecture so that it smoothly can be ported whenever the market needs it", says Dr. Olaf Munkelt, managing director at MVTec Software GmbH. "Now the moment has come. With HALCON Embedded we are able to support entirely different hardware platforms. We have already implemented HALCON Embedded several times and presented these devices at the VISION show 2005 in Stuttgart."
HALCON Embedded enables the programmer to develop on a PC using C or C++, and to transfer his program to the device. A compiler running on the camera is not needed.
With the purchase of HALCON Embedded, the users benefit from the entire HALCON library in its new version 7.1. Thus, the easy integration of modern camera technology combined with high-end software into the production process has now become possible.
More about HALCON: www.mvtec.com/halcon