First IDE for Machine Vision
Furthermore, HDevelop allows to run and to integrate external procedures. These external procedures can be code snippets that have been created by the programmer as separate files or programmed by a different developer. Moreover, using the interpreter HDevelop Engine(HDevEngine) as a part of the IDE the export of the programmed HDevelop application into C++ is no longer necessary. The engine – integrated in a C++ program – loads the HDevelop application file and executes it.
Thus, the HALCON IDE offers the possibility to create an application and to change parts of it without the necessity of running through a compiling and linking process.
The HALCON IDE acts interoperable under Windows as well as under Linux and UNIX. For example, HALCON applications developed under Windows can run in a C++ program under Linux and vice versa.
In the programmers' world, IDEs are widely used and they help to develop software efficiently. In one environment, these tools offer development interface, text editor, compiler or interpreter, linker, debugger, and source formatter. Now, for the first time an adequate IDE for machine vision is available to the market, because HALCON with its current version 7.1 fulfills all these criteria for developing and integrating image processing applications.
More information: http://www.mvtec.com/halcon/hdevelop/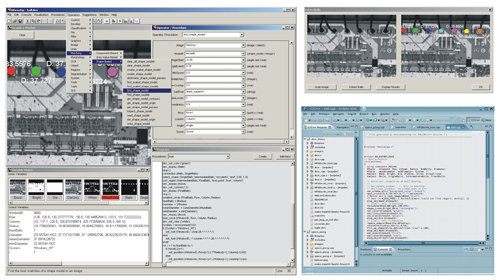 Image download: http://www.mvtec.com/press/2006-01-30/
About HALCON:
HALCON is the comprehensive standard software library with the IDE for machine vision. HALCON provides an outstanding performance for blob analysis, morphology, pattern matching, metrology, 3D calibration, and stereo vision, to name just a few. HALCON offers more than 1150 operators and provides interfaces to hundreds of industrial image acquisition devices. Furthermore, HALCON supports a wide range of operating systems as Windows, Linux, and Solaris.
Contact:
Dr. Lutz Kreutzer, Manager PR & Marketing | MVTec Software GmbH, Neherstr.1, D-81675 München Tel. +49 89 457695-0 | Fax +49 89 457695-55 | www.mvtec.com | press@mvtec.com
—
Dr. Lutz Kreutzer Tel: +49 89 457695-0
MVTec Software GmbH Fax: +49 89 457695-55
Machine Vision Technologies kreutzer@mvtec.com
Neherstr. 1, D-81675 Muenchen www.mvtec.com