Megapixel Boardcameras with USB2.0 Interface
The EHD ECK-Serie Megapixel USB2.0 boardcameras are available with 1.3 Megapixel, 2.0 Megapixel, 3.0 Megapixel and 5.1 Megapixel high-performance color CMOS-Sensors. Proprietary sensor technology utilizes advanced algorithms to cancel Fixed Pattern Noise (FPN), and provides superior black level calibration for optimal color performance.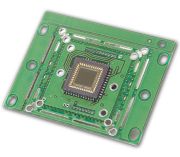 The camera board also contains a High-Speed USB2.0 connection port, no external supply power is needed.
The camera board is very flexible in size for various applications, housings etc.
The camera board can also be equiped with special board lenses.
DirectShow and TWAIN-Driver
EHD imaging GmbHZum Rennplatz 15
D-49401 Damme