NEW – FOculus S-Series – NEW
The new S-series (e.g. FO124SC) measures 29 x 44 x 63mm and is equipped with SONY CCD Matrix image sensors from 1/3" to 1/1.8" like the already well known standard series
(64 x 64 x 60mm). The cameras achieve resolutions from VGA (640×480) with up to 86fps, UXGA (1600×1200) with 16fps.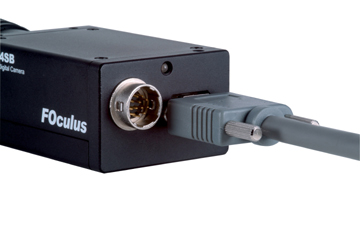 The IEEE1394 connector can be locked with srews to withhold every environment.
All models (incl. existing types) obtain the IEEE1394 interface acc. IIDC V1.31 specification.
Higher frame rates can be achieved by setting a ROI (Region of Interest) under Format 7(e.g. selecting a window of 60 x 60 Pixel to obtain 300 fps). Binning modes are also available (2×2 and 1×2). Binning is a useful option to obtain noise reduction or explicit light sensitivity. Furthermore the camera runs 2- or 4-times faster in fact of the reduced resolution.

All known characteristics of the FOculus series like C-mount, progressive scan, external trigger, low smear, excellent anti-blooming, high sensitivity, variable shutter speed, as well as an adjustable low frame rate, sub-sampling and electronic shutter are still effective.

Beside the included Viewer Software a complete SDK (Software Development Kit) is available to download from Website www.net-gmbh.com
The FOculus series runs with WDM and CMU driver.
The Application Programming Interface (API) is compatible to the following software libraries – – MVTec's Halcon & Active Vision Tools, Matrox's MIL & MIL-Lite und National Instrument's LabView – and allows the flexible integration into various applications.

After completing the FOculus Series NET is able to offer the ideal camera for nearly every application according casing, image sensor size, resolution and frame rate.

Main field of application are machine vision, positioning, microscopy, semi con inspection, Barcode, Matrix code, OCR, OVC and much more.

Please don't hesitate to contact us for your individual support.