NET New Electronic Technology announced today plans to expand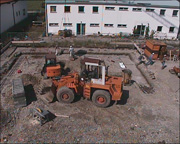 "2006 has been a very strong year for both NET and the imaging market," said Jean Pierre Heinrichs CEO and Owner of NET "In anticipation of future growth, and recognizing the lead times necessary to complete such an expansion, we have begun the design and planning process to significantly increase our manufacturing and warehouse capacity. Once completed, we feel this new addition will improve the overall flow of our current production processes, and provide the capacity needed to support our growth in the future."
Construction on the expansion is expected to begin in the third quarter of 2007, with completion targeted for beginning of 2008. With this investment we are responding to the growth opportunities offered by the market," explained Jean Pierre Heinrichs CEO and owner of NET GmbH.
About NET
NET GmbH, Headquarters are based in Finning (Germany) with additional production and development centers in Asia. NET provides a network of sales and support offices located in Europe, Asia, and the United States.
Since it was founded in 1996, New Electronic Technology NET GmbH has established a reputation for itself as a competent and experienced provider not just of standardized technical solutions but also of customized and sophisticated applications in the industrial, medical and research sectors. Moreover, thanks to our high levels of innovation and creativity, the product range is being continuously improved and we are able to offer an increasingly wide range of options to meet ever more stringent requirements.