VisionGauge / VisionGauge OnLine vision systems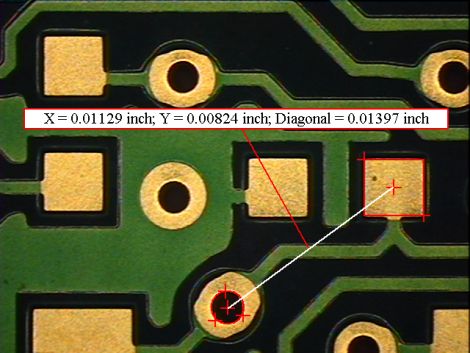 VISIONx Inc. manufactures and supplies machine vision software and systems for visual inspection, metrology, defect detection, presence/absence detection, optical character recognition/verification, pattern matching, signal processing, image analysis , and more.
VisionGauge and VisionGauge OnLine machine vision software are powerful tools for vision systems, image analysis, high accuracy measurement, and automated inspection. Motorized and manual configurations are supported, as well as other customized versions including, laser profiling, hardness testing, motorized zoom and focus, etc… Both VisionGauge and VisionGauge OnLine can integrate easily into existing inspection solutions or can be provided as a complete machine vision system for a wide variety applications in numerous industries.
VisionGauge OnLine software provides users with an intuitive interface to quickly and easily create automated inspection programs including:
Alignment

Registration

Pattern Matching

Automated Measurements

Analysis

Defect Detection

Assembly Verification

Optical Character Recognition & Verification (OCR / OCV)

Blob Analysis

CAD Overlay Comparison (profile projection / optical comparators)

Color Verification

Presence / Absence Detection

Object Counting & Sizing
VisionGauge software features:
REAL-TIME FULL COLOR IMAGE ACQUISITION
GENERAL IMAGING AND VISUAL INSPECTION
IMAGE ARCHIVING & RETRIEVAL
IMAGE EXCHANGE & TRANSMISSION
IMAGE RETOUCHING & ENHANCEMENT
IMAGE COMPARISON, OVERLAY & DIFFERENCING
IMAGE BLENDING ("PERFECT FOCUS")
HIGH PRECISION MEASUREMENTS & MEASUREMENT STATISTICS
| | |
| --- | --- |
| Company: | VisionGauge / VisionGauge OnLine vision systems |
| Street: | 210 Brunswick |
| Zip-Code: | H9R1A6 |
| City: | Pointe-Claire |
| Country: | Canada |
| Phone: | 514-694-9290 |
| Fax: | 514-694-9488 |
| Email: | info@visionxinc.com |
| Homepage: | http://www.visionxinc.com |