Point Grey's Latest Blackfly PoE GigE Vision Camera Offers 5 MP Resolution and Unbeatable Price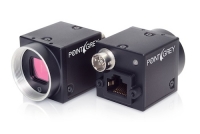 The BFLY-PGE-50A2 camera utilizes the popular MT9P031 (monochrome) and MT9P006 (color) CMOS sensors from Aptina and is capable of streaming full resolution 5 MP images at 13 fps. Region of interest functionality allows users to configure the sensor to output a smaller window of pixels at higher frame rate, such as HD 1080p (1920 x 1080) at 28 fps. The MT9P031 and MT9P006 sensors offer a 1/2.5" optical format, making it compatible with a wide variety of small format, low cost, CS-mount optics.
Like all other Blackfly camera models the BFLY-PGE-50A2 camera supports cable lengths of up 100 meters using Gigabit Ethernet, third-party imaging library support using the GigE Vision standard, and a host of features including Power over Ethernet, temperature and status monitoring, in-field updatable firmware, color interpolation, look up table and gamma, and much more.
With its unique combination of imaging performance, small 29 x 29 x 30 mm size, and low price, this new Blackfly camera is perfectly suited for applications in machine vision and factory automation; scientific applications such as astronomy, microscopy and biophotonics; and visualization applications such as video conferencing and kiosk imaging.
"We are very excited to expand the Blackfly product family to higher resolution devices, while making the leap to 5 MP imaging very affordable" says Michael Gibbons, Director of Sales and Marketing at Point Grey. "The Blackfly is the smallest PoE GigE Vision camera family in the world, and has become a key differentiator for Point Grey in the GigE Vision product segment. This model will continue that trend with increased resolution and unbeatable price-performance."
The Blackfly BFLY-PGE-50A2M/C-CS is priced at $325 (€245). Monochrome and color models are available to order now from Point Grey, its network of distributors, and its North American, Eurozone and Australian web store.
| | |
| --- | --- |
| Company: | Point Grey Research |
| Street: | 12051 Riverside Way |
| Zip-Code: | V6W 1K7 |
| City: | Richmond BC |
| Country: | Canada |
| Phone: | |
| Fax: | |
| Email: | |
| Homepage: | |