PIATI™_STI ECC200 DATA MATRIX™ DECODER TARGETS THE TRACKING OF SURGICAL TOOLS AND INSTRUMENTS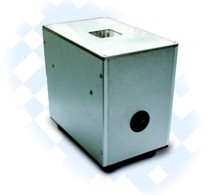 The PIATI_STI was developed specifically to read ECC200 Data Matrix codes lasermarked on medical/dental tools and instruments in accordance with HIBCC (Health Industry Business Communication Council) specifications. The PIATI ™ __STI is housed in a compact (130mm x 84mm x 132 mm), IP54 protection class, anodized aluminum enclosure that meets specified hygiene standards. It is a fan-free, foolproof, plug 'n' play appliance that uses customized built-in white LED illumination to generate the high quality image data that its embedded digital signal processor analyzes to produce accurate and repeatable decoding results.
A conventional 15-pin connector allows images, system status and decoding results to be displayed on standard analog VGA monitors. The decoding results are sent directly to PCs or electronic data processing systems via an RS-232 serial communications interface.
The PIATI_STI is most commonly used to facilitate the identification and tracking of surgical tools and instruments. It can record all of the items in a surgical kit, before and after an operation, to ensure that none are left inside a patient. It can also check the records of patients who contract diseases following surgery to determine which instruments were used on them and confirm that those instruments passed properly through the sterilization process. The general need for decoders of this type is growing as more hospitals and clinics employ the services of external organizations that specialize in sterilization. Companies providing such services must be able to track the items which they receive in order to ensure that they get returned to the appropriate parties.
The PIATI_STI is one of the application/industry-specific appliances in the PIATI ( P lace It And Trace It Ô ) suite of Data Matrix decoding software and systems that is available from The Value Engineering Alliance. The product suite also includes fully integrated general-purpose products and robust Data Matrix decoding software that is supplied in a library function format. This format facilitates the integration of code reading into automation solutions or vision application development and implementation environments that include other application-specific software such as OCR, OCV, test, precision registration/alignment, or inspection modules. The library also enables organizations and individuals who are so inclined to roll their own code readers.
For additional information, visit http//www.piati.com, email PIATIinfo@aol.com or call (877) 270-4410.
About The Value Engineering Alliance
Established in July of 1987, THE VALUE ENGINEERING ALLIANCE specializes in the conceptualization, development, marketing, selling, and implementation of machine vision solutions that lower the overall costs of laboratory and industrial manufacturing operations (analysis, assembly, inspection, test, control, identification, etc.) while achieving equivalent or enhanced levels of system/process performance and reliability.
Renowned as the supplier of application-specific vision software libraries used by several of the vision industry's premier players to enhance their existing offerings or expand into new application arenas, The VEA has been equally successful as a supplier of vision software and systems used in numerous industries by OEMs, system developers/integrators and automation engineers inside end user organizations. Based in Cambridge, Massachusetts (USA), the VEA operates worldwide via its extensive network of allied organizations and individuals. For additional information about the VEA's activities and areas of expertise, visit www.The-V-E-A.com .