Imaging Solutions Group (ISG) LightWise & Custom Cameras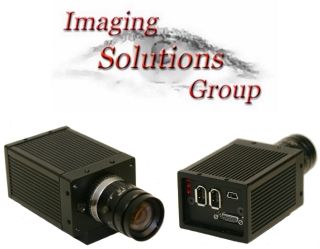 The Imaging Solutions Group (ISG) is a contract engineering services firm in the field of digital imaging and they provide OEM product delivery. In essence, they design custom digital cameras and video systems, manufacture them and sell them to OEM customers who either rebrand them for resale or integrate them into a larger product or system.
They also have a line of intelligent camera products called the LightWise Series. ISG LightWise OEM smart cameras are low-cost and highly functional. ISG Offers both Line Scan and Area cameras. ISG Cameras work with most 3rd party image processing software such as, National Instruments, A&B's Image Warp, Aphelion, MVTec, Matrox Mil, Norpix Steampix and others. ISG supports 1394 FireWire (a & b), CameraLink, GigE, USB2 and other interfaces. ISG LightWise cameras are ideally suited for Industrial Machine Vision Applications such as, Automated Optical Inspection, Metrology, Sorting, Bar Code, Direct Part Marking, Military/Government and Security.
ISG has a number of custom camera platforms that make designing specialized cameras for various applications much easier, faster and less expensively than designing a new camera from ground zero.
The Imaging Solutions Group is based in Rochester, NY. Manufacturing sites are in the Rochester, NY area and in the Far East.
Rochester, NY is an "Imaging City" home to many imaging firms, such as Eastman Kodak Company, Bausch & Lomb, Xerox and many others including the "Imaging Solutions Group."
| | |
| --- | --- |
| Company: | Imaging Solutions Group (ISG) LightWise & Custom Cameras |
| Street: | 1387 Fairport Road, Suite 890 |
| Zip-Code: | 14450 |
| City: | Fairport |
| Country: | USA |
| Phone: | 585-388-5220 |
| Fax: | 585-388-5223 |
| Email: | sales@isgchips.com |
| Homepage: | http://www.isgchips.com |