Mobisense Systems – Omnivision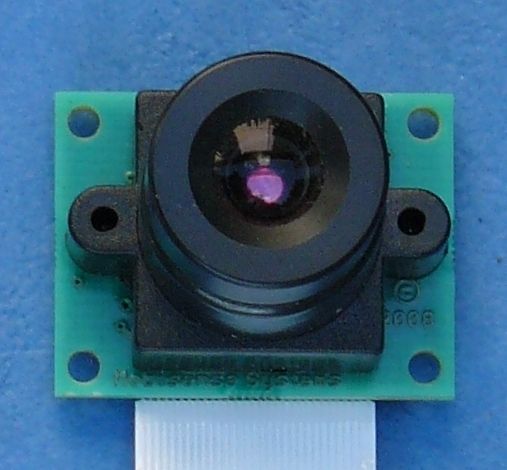 Mobisense Systems has designed these very compact (26x20mm) camera modules for embedded applications. They connect via a 30 pins FFC cable for position independent from host. Lens holder is M12x0,5.
Omnivision® CMOS sensors are high-performance single-chip camera and image processor that performs under low voltage conditions. They have high sensitivity for low light situations and can operate within a wide temperature range.
MBS7720 includes OV7720 sensor.
OV7720 key specifications:
VGA resolution 640×480
1/4-inch optical format
6.0µm x 6.0µm pixel size
Multiple output formats: YUV/YCbCr422, RGB565/555/444, GRB422, Raw RGB data (8/10bits)
Rolling shutter, progressive scan
Frame rate: 60fps at VGA resolution
Sensitivity: 3.0 V/lux-sec
S/N Ratio 50dB
Dynamic range 60dB
Electronic exposre: Up to 510:1 for selected fps
Operating temperature: –20°C to +70°C
OV7720 features:
Automatic image control functions including: AEC, AGC, AWB, ABF and ABLC
Image quality controls including color saturation, hue, gamma, sharpness and anti-blooming
ISP includes noise reduction and defect correction
Lens shading correction
Saturation level auto adjust (UV adjust)
Edge enhancement level auto adjust
De-noise level auto adjust
Frame synchronization capability
MBS7720 features:
Parallel output, power and I2C on FFC 30 pins 0.5mm pitch: D<9:0>, HREF, VSYNC, PCLK, XCLK, SDA, SCL
Alternate signal and ground lines and series resistors on parallel output preserve signal integrity over "long" FFC.
High retention FFC connector (FCI VLL series)
Test pad for frame synchronization (FSIN input)
Single 3.3V supply
120mW active, <100µW standby
M12x0.5 lens mount for wide lens choice
Weight: 5g without lens
Full Video for Linux Two (V4L2) support on MBS270 XScale boards
| | |
| --- | --- |
| Company: | Mobisense Systems – Omnivision |
| Street: | 147 rue de Calais |
| Zip-Code: | 60000 |
| City: | BEAUVAIS |
| Country: | FRANCE |
| Phone: | (+33) (0)344 457 309 |
| Fax: | |
| Email: | contact@mobisensesystems.com |
| Homepage: | http://www.mobisensesystems.com |